We've partnered with GamingTribe to give you the chance to win one of our limited edition MAVEN Reference HTPCs!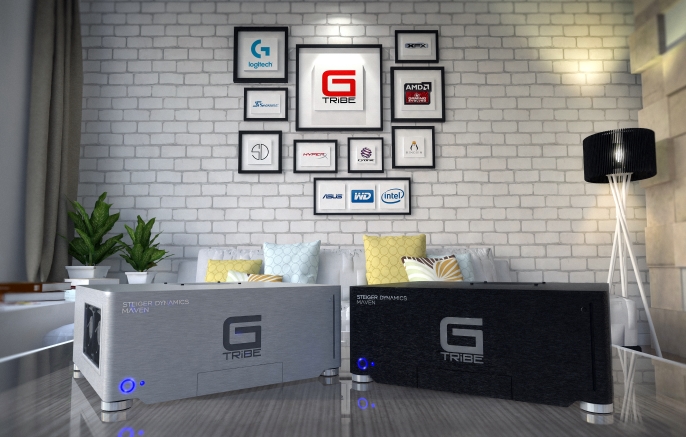 TWO Grand Prize winners will each receive a stunning gaming HTPC, meticulously handcrafted in Silicon Valley, and equipped with components from XFX, Seasonic, HyperX, NZXT, ASUS, WD, Sony, Intel and Microsoft. These two powerful BEASTS also feature dual AMD Radeon R9 390X graphics cards and Logitech peripherals.
The TWO Grand Prize winners will also receive an exciting prize package of handpicked games from Kinguin, including Star Wars Battlefront by Electronic Arts and Fallout 4 by Bethesda Softworks. Furthermore, the grand prize winners will each receive a COUCHMASTER Pro Lapdesk to comfortably use a mouse and keyboard from their sofa.
The combined value of the Grand Prize is $11,000.
Enter the giveaway here! 
Have a look at the build log below!
UPDATE: Winners have been chosen! Congratulations to Stylianos Mavromatis and Gary Calhoun!
System Specifications
Chassis: STEIGER DYNAMICS MAVEN Reference Full 4mm Aluminum HTPC Chassis w/ GTribe laser-etched logo
CPU: INTEL Core i7- 5960X 8-Core Processor Extreme Edition 20M Cache 8-Core, 3.5GHz Turbo (Overclocked to 4.0 GHz)
CPU Cooling: NZXT Kraken X41 RL-KRX41-01 140mm All-In-One Water / Liquid CPU Cooling
Graphics Card: Two (2) XFX AMD Radeon R9 390X 1050MHz 8GB 512-Bit GDDR5 PCI Express GPUs w/ AMD Gaming CrossFireX configuration
Motherboard: ASUS X99-PRO USB 3.1 LGA 2011-v3 Intel X99 SATA 6 GB/s USB 3.1 ATX Motherboard
Memory: Kingston HyperX Savage 16GB (4x4GB) DDR4 2133MHz memory
Power Supply: Seasonic Platinum 1200W ATX12V/EPS12V 80 PLUS Platinum PSU
System Drive: Kingston HyperX Savage 240GB SATA 3 SSD
Storage Drive: WD Red 1TB Desktop HDD
Optical Drive: Sony Slim Slot-In 2x Blu-ray / 16x DVD Combo Drive
Connectivity: Gigabit-Ethernet, 2×2 802.11ac Wi-Fi, Bluetooth 4.0 LE
Blu-Ray Playback Software: CyberLink PowerDVD 15
Peripherals
Keyboard: Logitech G910 Orion Spark RGB Mechanical Gaming Keyboard
Mouse: Logitech G303 Daedalus Apex RGB Performance Edition Gaming
Mousepad: G640 Large Cloth Gaming Mouse Pad
Headset: Logitech G633 RGB Headset w/ Dolby and DTS 7.1 Surround Sound Gaming Headset
Extras
OS: Windows 10 64 Bit
System Integrator: Handcrafted in Silicon Valley by STEIGER DYNAMICS
Warranty: STEIGER DYNAMICS Lifetime Technical Support
Lapdesk: COUCHMASTER Pro with USB 3.0 Hub and extension cable
Games by Kinguin
Electronic Arts: Star Wars Battlefront
Bethesda Softworks: Fallout 4
Build Log:
1: One of our MAVEN Reference Gaming HTPC giveaway systems got it's ultra-quiet Seasonic 1200 Watt Platinum power supply and cabling installed. It's now ready for the motherboard.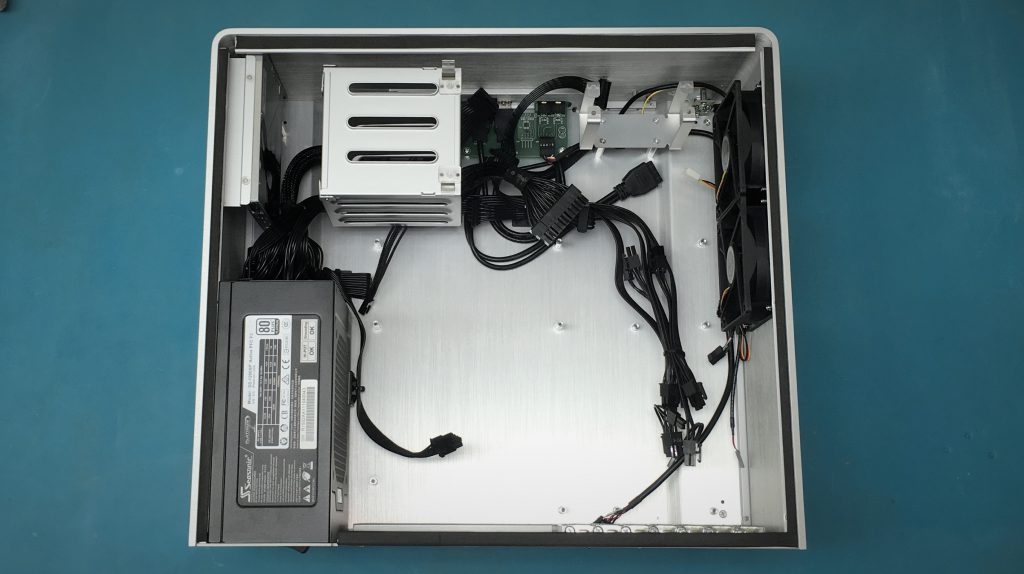 2. Our HTPC is now powered by ASUS: The X99-PRO motherboard features unmatched performance, fast 802.11ac Wi-Fi and ultra-fast USB 3.1 onboard. It's also a perfect platform for overclocking.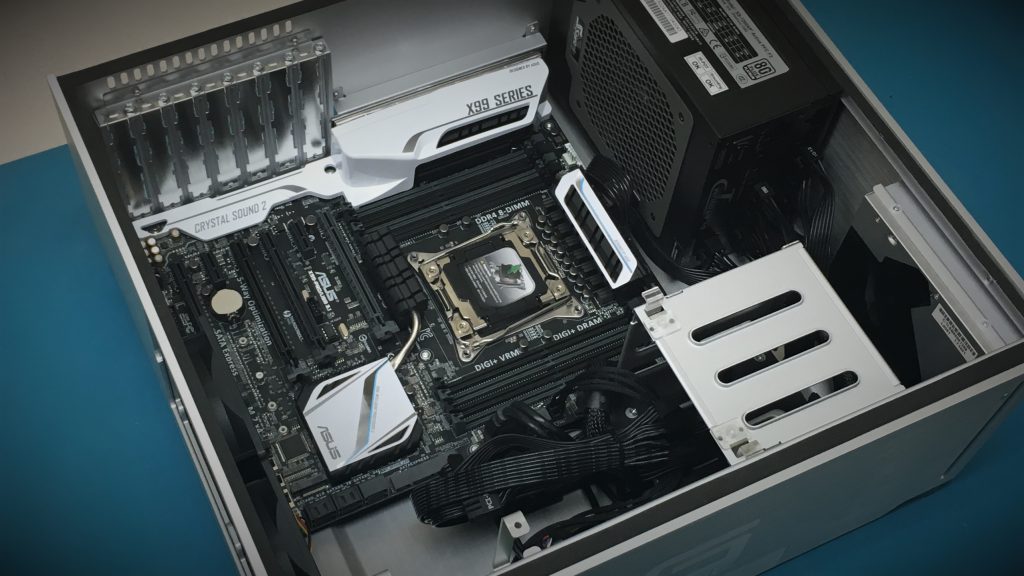 3. Our giveaway HTPC received some memory: 16 GB Quad-Channel Kingston HyperX Savage 2133MHz DDR4 with aluminum heatsinks.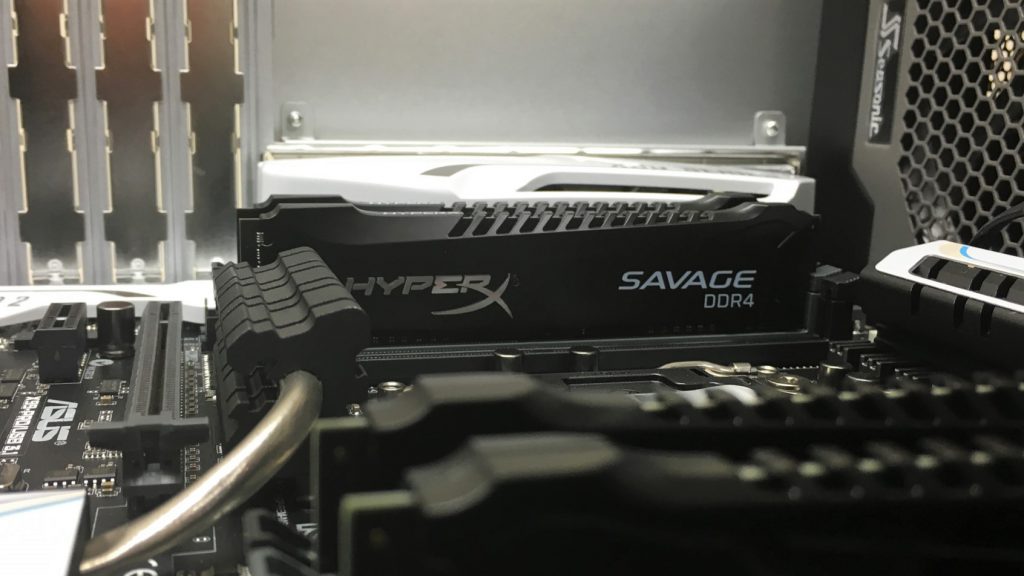 4. A 240 GB Kingston HyperX Savage SATA SSD is now installed to later host Windows 10, apps and games. Up to 560 MB/s read and 530 MB/s write speeds, with read/write IOPS up to 100k/89k will make sure you spawn first.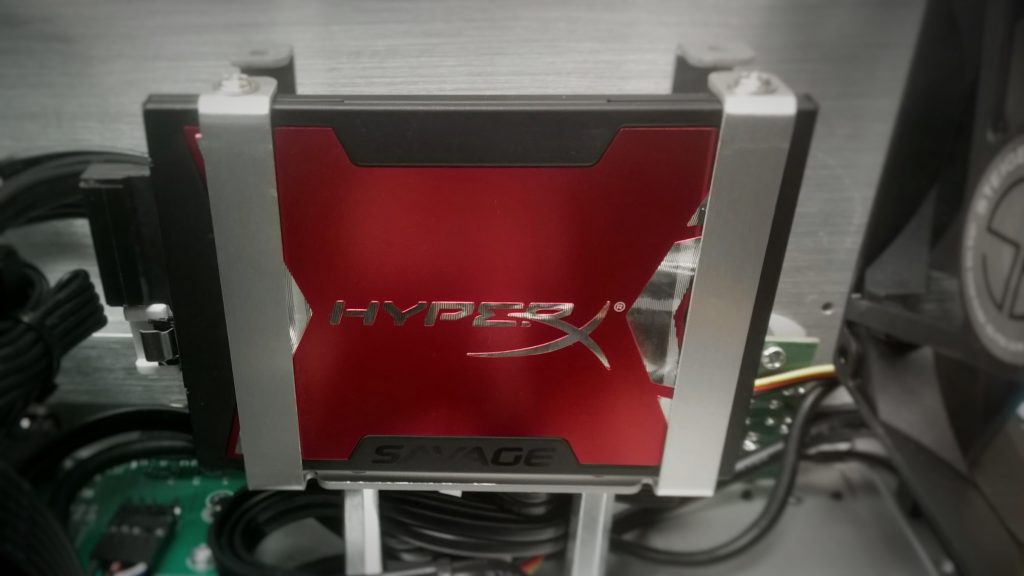 5. 2 x XFX AMD Radeon R9 390X with 1050 MHz clock speed and 8 GB 512-Bit GDDR5 memory in AMD CrossFireX configuration ensure that your frame rates will be north of 60, even when playing in 4K.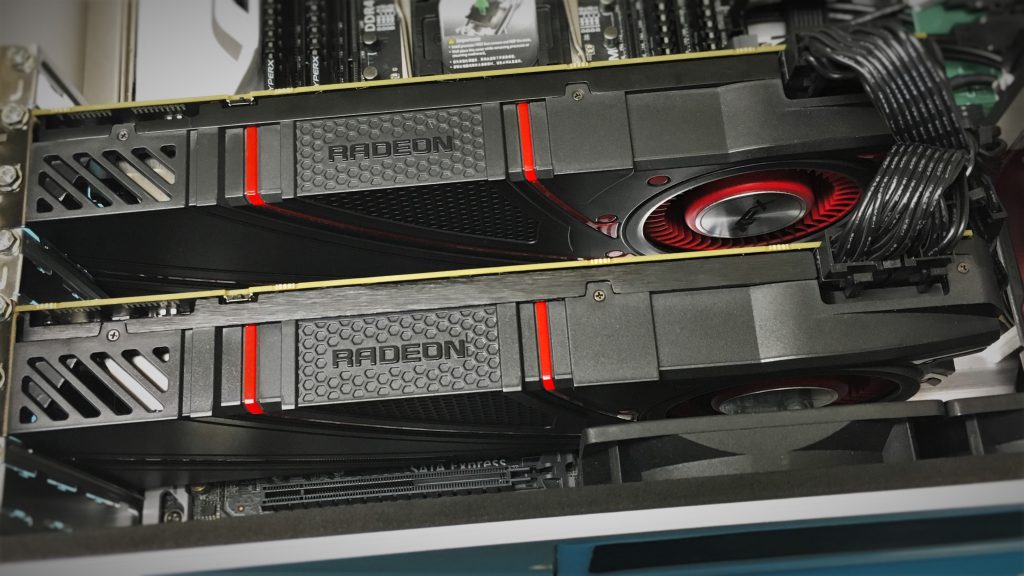 6. 1.0 TB WD Red Storage added to our giveaway HTPC with rubber cushions to eliminate vibrations. WD Red drives are ultra-quiet, have low power consumption, low heat output, are RAID capable (supporting the TLER command), designed for 24/7 usage and fast enough to play 4K content. Thus, the perfect HTPC storage drive.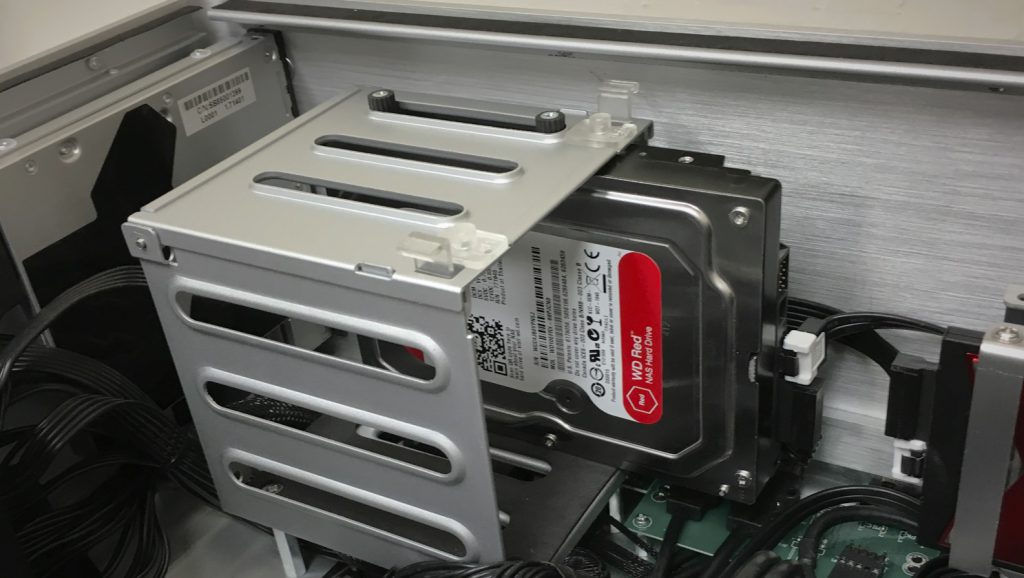 7. NZXT Kraken X41 pre-sealed 140 mm liquid cooler installed. This will keep the temps of the overclocked Intel i7-5960X 8-Core CPU in check and is still very quiet under idle and low system loads.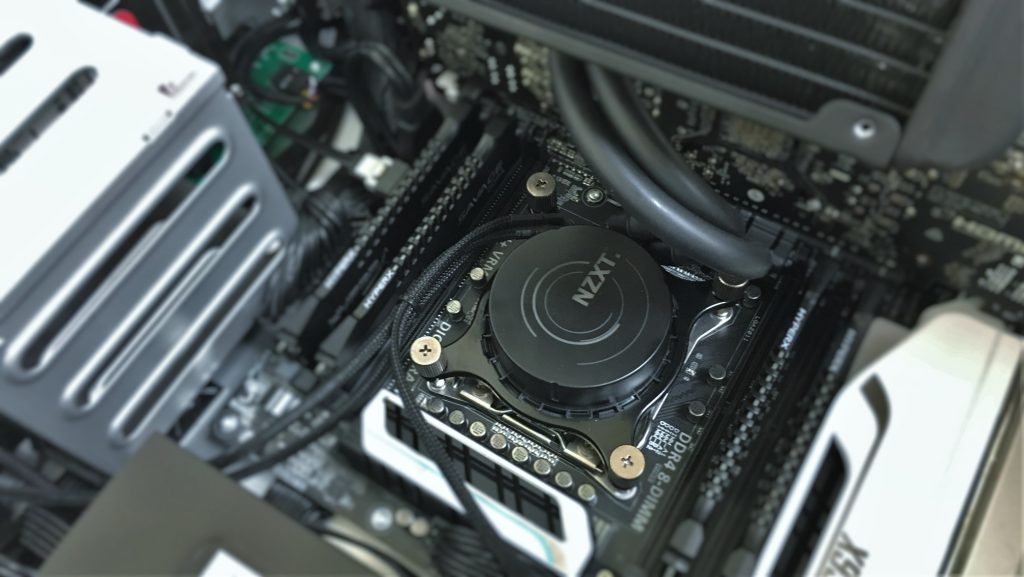 8. Removable easy to clean dust filter is attached to the left side of the MAVEN HTPC chassis, in front of the ultra quiet dual 92 mm intake fans.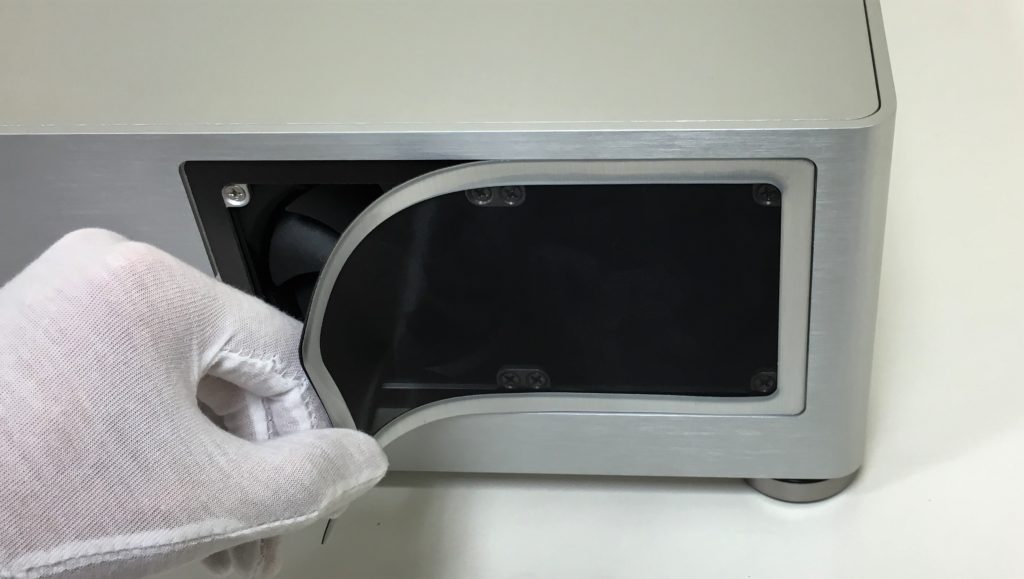 9. Our giveaway HTPC‬ is almost complete. Here's a last glimpse inside before the lid is closed.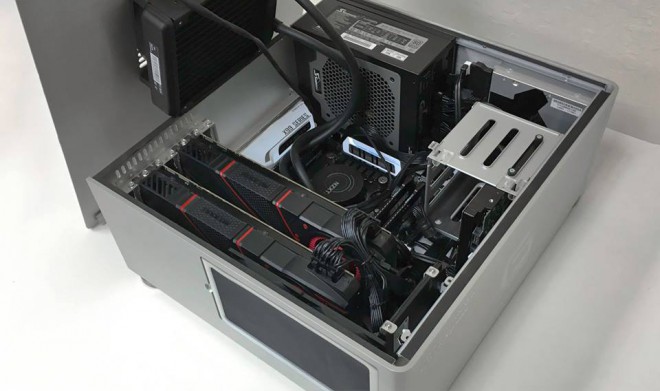 10. The final touch. The STEIGER DYNAMICS system engineer signature plaque is embedded on the rear of the finished system.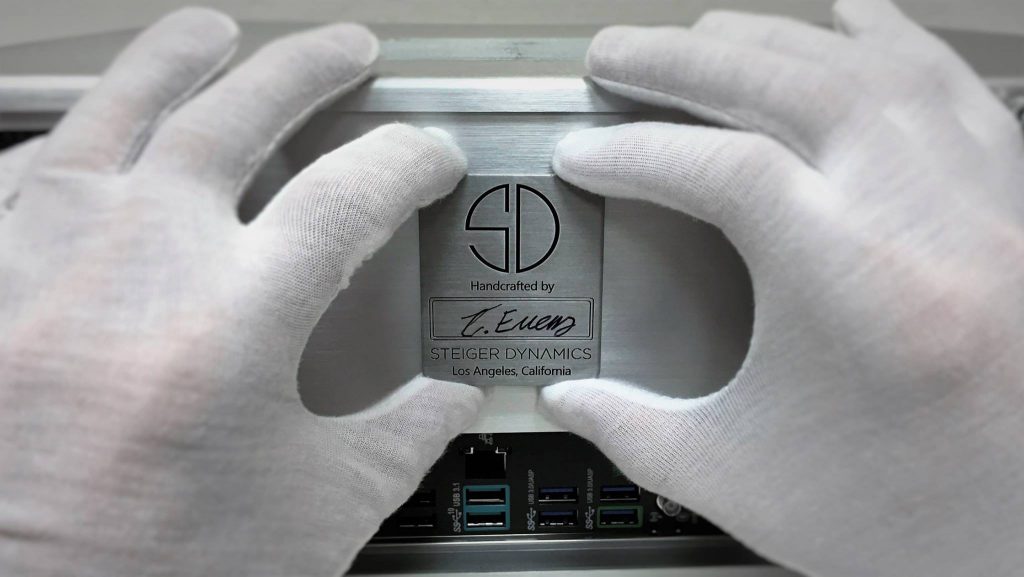 Bonus: A shoutout to our fan Eusebio Raga from the Philippines who put together this incredible 3D render of our giveaway HTPC! We appreciate the effort he put into this and are glad to feature it in our build log.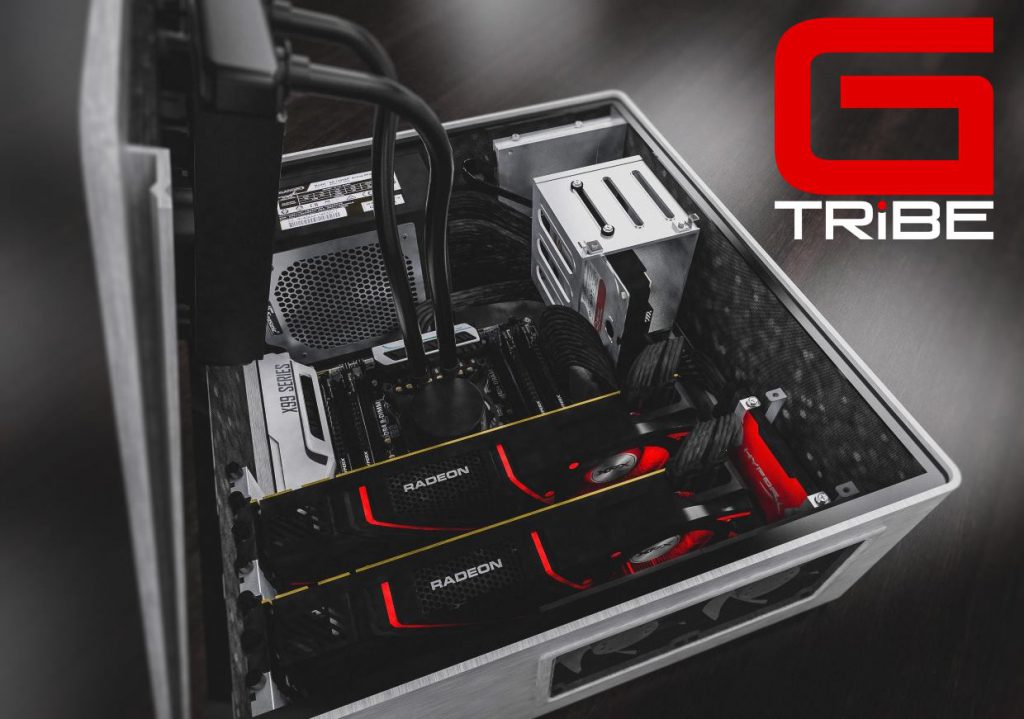 This giveaway is sponsored by Logitech G, AMD, XFX US, Seasonic – 海韻電子, HyperX, NZXT, Kinguin, STEIGER DYNAMICS, ASUS,Western Digital and Intel.