On December 27, 2021, we released the third iteration of its critically acclaimed LEET HTPC case. Except for a few subtle but elegant changes in design, LEET III Chassis shares the same one-piece, hand-brushed, full-aluminum shell that made its predecessors so iconic. In addition, the chassis sports a 7" front LED display that features our own LEET Monitor app, and offers full open-loop liquid cooling support; LEET III Chassis redefines the term "Luxury Living Room PC enclosure".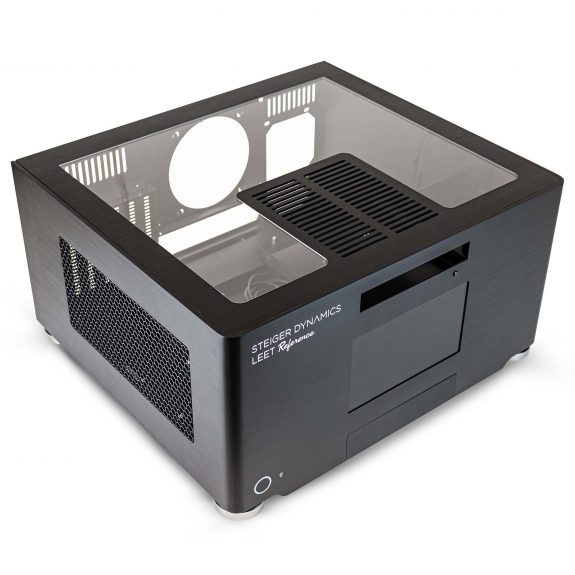 LEET III Chassis is available in the colors Space Black and Royale Silver. Measuring 17.1 in x 8.7 in x 15.4 in (43.5 cm x 22.1 cm x 39 cm (WxHxD), 37.4 L volume), the 3rd iteration of the LEET Chassis has an optimized interior layout for improved airflow and increased GPU waterblock compatibility up to GeForce RTX 3090 Founders Edition and EVGA FTW3 cards. The 240mm side air intake/exhaust has been redesigned with a minimum resistance mesh, increasing airflow and cooling efficiency. With the capability to handle the latest NVIDIA 30-series graphics cards, as well as the latest Intel 12th Gen and AMD Ryzen 5000-series CPUs, the LEET III Chassis has more flexibility, quality, and potential than ever before.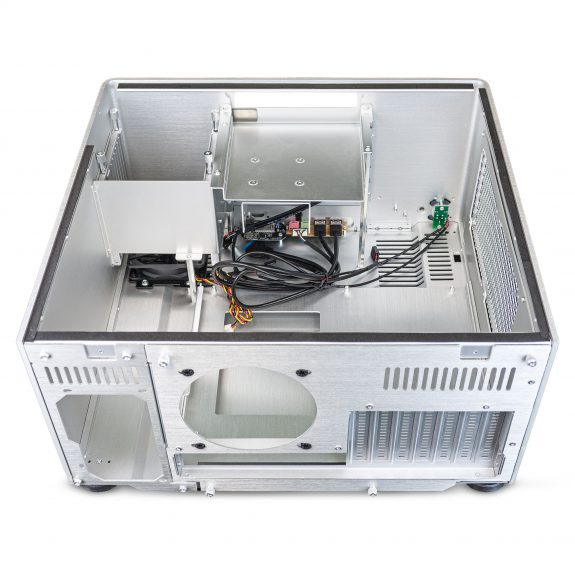 The LEET chassis is compatible with motherboards up to the E-ATX form factor, holds 3x 2.5" drives, a 5.25" Blu-ray drive, as well as 4x vibration-isolated 3.5" HDDs, cooled by an inaudible 92mm fan. The front panel includes dual USB 3.0/3.1 connectors, an SDHC card reader, and front HD audio connectors. LEET III Chassis is shipped with all required accessories like custom radiator/fan screws, custom silicone fan decoupler gaskets, and custom SATA data cables.
Highlights:
Integrated, internal USB 2.0 connected front display running our light-weight LEET Monitor App to keep you up-to-date on system temperatures and other useful metrics
Vibration-reducing materials including felt, rubber and silicone to increase quietness
Designed for open-loop liquid cooling and maximum quietness
360mm total radiator space allowing for the quiet dissipation of up to 600W of heat
0.2 inches (5mm) thick, one-piece, hand-brushed aluminum shell designed to minimize electromagnetic interference
Specs and Pricing:
Base price: US$1,199.00
Dimensions (cm): 43.5 cm x 22.1 cm x 39 cm (W x H x D)
Dimensions (in): 17.1 in x 8.7 in x 15.4 in (W x H x D)
Volume: 37.4 liter
Weight: 7 kg / 17 lbs
Orientation: Horizontal
Motherboard Support: E-ATX, ATX, mATX
Power Supply Support: ATX power supply support up to 20 cm / 7.9 in length
Standard Accessories:
Solid, hand-brushed, full-aluminum, lid
Front panel:2x USB 3.0/3.1, SDHC card reader, 3.5mm HD audio in/out
Set of 8 (4x 3.5" bay, 3x 2.5" bay, 1x ODD) custom STEIGER DYNAMICS shielded LEET Black Custom SATA3 (6GB/s) drive cables
Virtually silent 92mm HDD fan
Rear 120mm fan grille
All necessary mounting screws
STEIGER DYNAMICS 120mm and 240mm silicone fan decoupler gaskets to reduce noise and vibrations
STEIGER DYNAMICS black cloth binder with manuals and software
STEIGER DYNAMICS black box w/ components (shrouds, fan covers, gloves, clips, screws)
Optional Accessories:
Acrylic glass lid
12mm sound dampening foam installation
IR Receiver Module (RC6 / Harmony / Media Center compatible)
Seasonic SATA power LEET black custom single sleeved PSU cable set. Single HDD cable and a single 2.5"/ODD cable (4x SATA power connectors each)
Custom STEIGER DYNAMICS / Swiftech 120x30mm and 240x30mm (including reservoir) full copper radiators
Order the LEET III Chassis at https://www.steigerdynamics.com/leet-chassis. Available today!