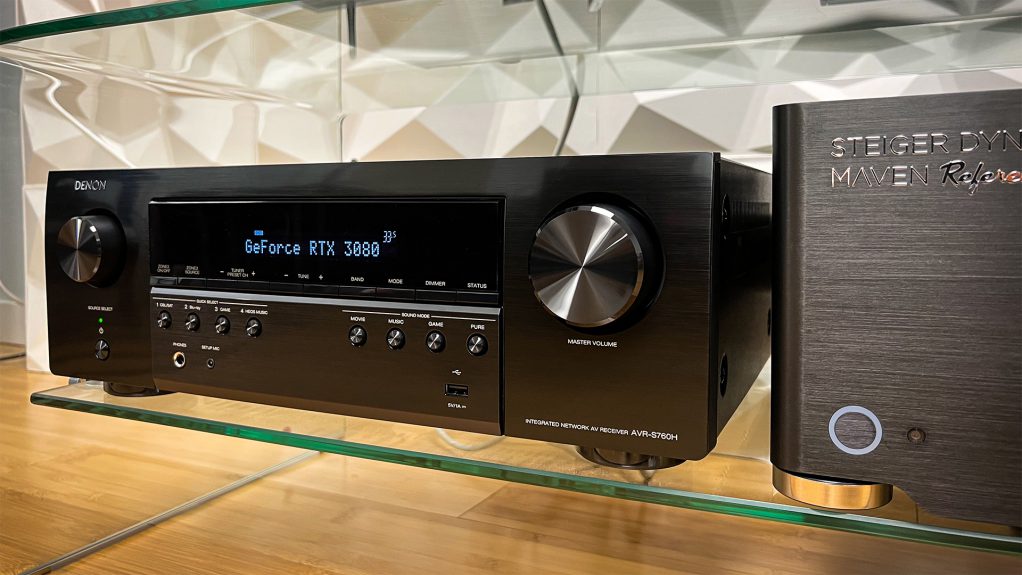 We founded STEIGER DYNAMICS to make Gaming (HT)PCs that are the perfect fit for our most beloved, and undoubtedly the most immersive form of gaming at home: Sitting comfortably on the sofa, a low-latency OLED 4K/120 TV in front of us, mouse and keyboard placed on the Couchmaster lapdesk with perfect ergonomics, getting shaken by the deep bass of the woofer of our surround sound system while being able to identify with absolute precision where that gunfire is coming from. 
Integral part of that vision is an Audio/Video Receiver sitting in between the HDMI connection that goes from your gaming machine to the TV. The AVRs job is to grab the audio signal and output it to your speakers, while passing through the video signal in full quality and with no measurable latency added. To achieve this for the before mentioned 4K resolution at 120 Hz/fps with HDR and VRR (variable refresh rate to reduce screen tearing aka 'G-Sync compatible'), the latest HDMI 2.1 standard at 40 Gbps bandwidth is required. This is where things get tricky… 
The HDMI 2.1 standard  
HDMI 2.1 took long to conceptualize, longer to implement and even longer to get to work properly. There are currently two HDMI 2.1 chipset standards in newer AVRs – such chips that can handle the reduced 24 Gbps and then the good ones that can handle 40 Gbps. HDMI chips capable of the maximum defined bandwidth of 48 Gbps are not available in the consumer space at this point in time. 
While pushing an error-free signal at 40 Gigabit per second through a copper wire is a feat by itself (40 Gbps Ethernet, the fastest current networking standard, needed to switch from copper to fiber to achieve this, albeit over much longer distances), additional requirements and manufacturer requests  like HDCP 2.3, HDR10+, Dolby Vision, VRR, Chroma 4:4:4, etc. complicated things even further. The table below, courtesy of flatpanelshd.com, showcases all current resolutions and bandwidth-consuming features to give you a good idea what the HDMI 2.1 chipset in your AVR needs to be capable of to achieve what you need.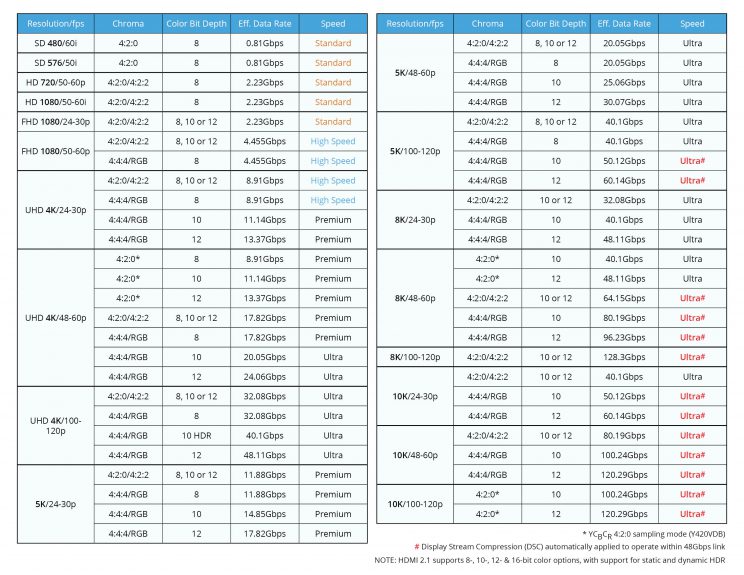 First generation (2019/2020) HDMI 2.1 AVR issues 
Because AVRs are typically seen as long-time investments with a lifespan much longer than PCs or consoles, it's even more important that those receivers are ahead of their time when it comes to connectivity. Unfortunately, when the first 4K/120 and 8K/60 TVs were announced in 2019, the HDMI 2.1 standard wasn't finalized by the HDMI licensing organization but AVR manufacturers needed to push to move from the HDMI 2.0 standard (18-24 Gbps) to the much more complex HDMI 2.1 standard to be able to have compatible products available in 2020. Needless to say, most of these implementations were half-baked and the majority didn't work as intended (or not at all in the case of Yamaha) once consumers hooked up their latest HDMI 2.1 devices capable of using 40 Gbps of bandwidth with all bells and whistles. AVR manufacturers reacted slow and first promised fixes with the next generation of AVRs. Once pressure from customers started to build up, manufacturers tried to find solutions that can be retrofitted to first gen HDMI 2.1 receivers. Yamaha promised an HDMI board exchange when sending in your AVR (which at least made it functional but they missed their chance to make it right and upgrade to 40 Gbps), while Sound United (Denon, Marantz, Classé et al.) offered an external adapter box that at least fixed some reliability issues for the Xbox, however not for 30-series GPUs.  
The state of second generation (2021) HDMI 2.1 AVRs 
2nd gen models released between Q1 2021 and today, typically have 2nd gen HDMI chips with 40 Gbps capability. While our customers still report some bugs, many of these AVRs now work as they should. Unfortunately and most notably, Yamaha is trailing behind again and many of their AVRs require a later firmware update to enable full bandwidth and features. Others, in particular Sound United AVRs got the job done right this time around which is why we decided to go with a Denon AVR for our Redwood City, CA headquarter demo room (more about that in another article). We replaced our Yamaha TSR-700 7.2 receiver with the 7.2 Denon AVR-S760H ($449.99 at Costco) and it was smooth sailing ever since. 4K/120 RGB with HDR and VRR (G-Sync compatible) is now fully working and we can't feel or measure any added latency. Gameplay is incredibly smooth and competitive, and our Battlefield 2042 sessions are as immersive as they could possibly be. Our considered alternatives were the Onkyo TX-RZ50 and the Pioneer VSX-LX105 but we didn't want to wait for their release. Also, they can't beat the Denon AVR-S760H at price.
If you want to find out more about how your receiver performs, if there are any available upgrades or what your next safe purchase is, please take a look at this AVS Forum article: https://www.avsforum.com/threads/hdmi-2-1-avrs-and-av-processors-issues-with-chips-video-signal-gaming-features-transition-to-40-48-gbps.3199232/