Home Theater PC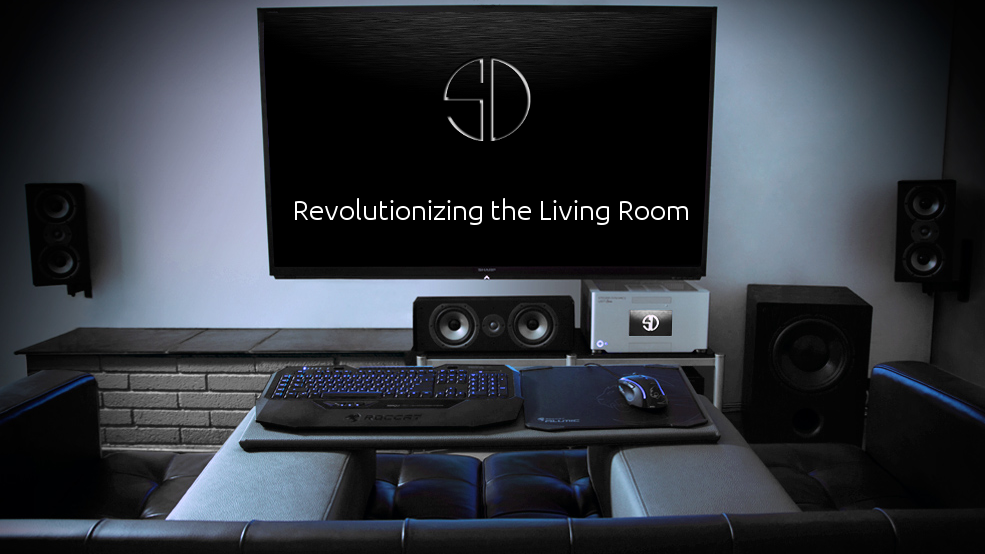 Reinventing the Home Theater PC
LEET™ is the most powerful full-spec, custom-built Home Theater PC on the market, with a distinct design and functionality for the living room. It caters to audio and video enthusiasts, as well as high-end gamers. Due to its sleek design, ultra-silent operation, and easy integration with other home theater components, the system blends perfectly into any existing living room setup. LEET™ represents a whole new generation of PCs – blurring the line between enthusiast desktop PCs, gaming consoles, and home entertainment devices.
Redefining High Definition
LEET™ is powerful enough to deliver up to Ultra HD resolutions in 60p, making it fully compatible with any 4K/UltraHD TVs. It features unrestricted compatibility with all high-res video file formats (.mts, .mkv, .avi, .mp4, etc.). Besides CD, DVD, 3D and 4K Blu-ray Disk playback, it effortlessly streams HD and/or 4K videos from online services such as YouTube, Twitch, Vine etc. It is ready for 4K Netflix , Hulu, and Prime streaming once available.
Optimizing Your Cable TV Experience
Up to two Full HD TV tuner work with cable, satellite, and Over-The-Air TV providers and lets one watch and record up to six channels simultaneously in Windows® Media Center, JRiver Media Center, MediaPortal or Kodi. Get rid of a redundant set-top box, remote control, and wires and enhance the functionality and aesthetics of your living room setup.
Providing Home Server Functionality
With a capacity for over 2,000 Full HD Blu-ray movies, 5 million MP3s, or 5,000 hours of HD TV recordings, LEET™ has enough space to store one's entire media library and more. Furthermore, all components are designed for continuous operation. Media Center and remote apps enable streaming of one's entire media library to any mobile device or other PC, inside or outside of your network.
Bringing High-End Gaming to the Big Screen
Enjoy from the comfort of the living room an unequalled gaming 3D experience in native 4K or Full HD with LEET™. Stunning visual quality and mind blowing graphics of 60+ frames per second, the performance is achieved through the incorporation of state of the art NVIDIA graphics cards. Up to Quad-SLI GeForce GTX TITAN Z and Dual-SLI GTX 1000 Series configurations with HDMI 2.0b connectivity, HDR and DirectX 12 support elevate gaming to the best level possible. Connected to a large screen (3D) TV or projector, LEET™ provides an overall gaming experience that no current or next-gen console can possibly compete with..

The LEET™ utilizes the full potential of EVGA NVIDIA based GeForce graphics cards. It handles with ease the most graphics-intensive current and future games in high-definition and stereoscopic 3D. All while using the highest possible graphics settings. On a large TV, this experience is entrancing and immersive.
Delivering High Fidelity Audio
LEET™ delivers ultra-precise lossless sound via HDMI bitstreaming and supports all high-res sound codecs like Dolby® ATMOS, TrueHD, dts:X, dts-HD Master Audio™, providing the clearest sound for the truly discerning audiophile. The system features unrestricted compatibility with any audio file format (.mp3, .acc, .flac, .ogg, etc.). In addition to CD playback, it can stream music from one's preferred online source, like Spotify, Pandora, or Soundcloud.
Windows®, TV-optimized
Microsoft® Windows® is the operating system of choice for living room computing. It runs the highest-performance games better than any other operating system, features world's largest selection of apps, and handles all media formats. Only Windows and the PC platform is the common denominator of any exisiting streaming service and thus replaces all existing TV-sticks or boxes in one single and sleek unit. Optional Media Centers are a comfortable way of watching and recording TV and movies, listening to music, and managing all other media files.
Versatile Wireless Control
Control is completely in the hands of the user. Whether it's a smartphone or tablet, keyboard with touchpad, a programmable IR remote or mouse and keyboard, LEET™ is compatible with all of these options, and more. Additionally, you can play your games with Xbox controllers or any race and flight simulation gear.

Playing Battlefield with a wireless mouse and keyboard from the sofa worked perfectly. I am very sensitive to input lags and ergonomics, and I felt no difference to my wired desktop setup. Konrad Kneschaurek (LEET™ Core customer)